Slavestate
#1 (01)
Neurosis, Biohazard, Entombed, Moonspell, Relevent Few, Obligatorisk Tortyr, Nasum, The Awesome Machine, Bathory, Darkthrone, Demon, Krisiun, Tomas "Tompa" Lindberg, Meshuggah, Naglfar, Eric Rutan, Danny Spitz, Totenmond, Wacken Rapport 2001, Patrik Jensen (Felicia grillar), Marduks turnédagbok. #2 (02)
Deathstars, Kittie, Theatre Of Tragedy, System Of A Down, Abandon, Blackmoon, Burnt By The Sun, Insision, Lord Belial, Mayhem, Misery Index, My Dying Bride, Napalm Death, Possessed, Reclusion, Regurgitate, Sodom, Mikael Stanne (Felicia grillar), Testament, Tiamat, Vomitorys turnédagbok, Jelencovichs dabok del 1 av 2. #3 (02)
Korn, Vader, Mustasch,
Dismember (1/2)
,
Arch Enemy
, Otep, Sugarcoma,
Anatomi-71
, Beheaded,
Candlemass
, Sharlee D´Angelo (Felicia grillar),
Dark Tranquillity
, December Wolves, Dimmu Borgir, Drowning Pool, Inferno Festival 2002, Lord Belials Turnédagbok, Motörhead, Revolver, Jelencovichs dagbok del 2 av 2.
#4 (02)
Nile, Sick Of It All, In Flames, Satyricon, Hate Eternal, Haemorrhage, Headplate, Deströyer 666, Soil, Macabre, Dying Fetus, Dillinger Escape Plan, Bestial Mockery, …And Oceans, Cryptopsy, Felicia grillar Peter "Flinta" Stjärnvind, Bedömt: demo, Carcass, Festivalrapport från Gbg Death Fest, Dismember (2/2), Hultsfredsfestivalen, Wacken Open Air (Tyskland) och Moshfest (Norge)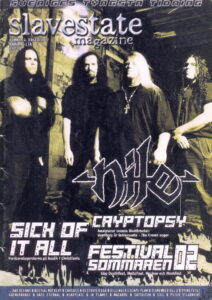 #6 (03)
The Haunted
,
Marduk
, Anthrax, Illdisposed (låtsnack), Soulfly, Cradle Of Filth, Ministry, Old Man´s Child,
Cult Of Luna
, Within Temptation, Blood Red Throne, Malevolent Creation, Cadaver Inc, God Dethroned,
Paganizer
, The Seventh Gate,
Bedömt: demo
,
Enthralled
, Volbeat,
Insisions turnédagbok
, Slavestate gräver lik del 4: Dominus och Slavestate hyllar del 5: Thrashmetal.
#7 (03)
Anders Fridén, Darkthrone, Type O Negative, Prong, Carpathian Forest, Clawfinger, Inferno Festival 2003 (Norge), aborted, Dimmu Borgir i Studion, Soilwork, Nasum, Isis, Mortiis, Turbonegro, Tatres turnedagbok, 1349, Boogieman, Sepultura, Mördande Rokkies och Felicia Grillar (Billy Milano). #8 (03)
Arch Enemy, Danko Jones, Devin Townsend snackar Svensk Metal, Dimmu Borgir, Dog Fashion Disco, Entombed, Hultsfred Festival 2003, Lumsk, Mnemic, Morbid Angel, Mustach, My Ruin, Nine, Panzerchrist, Roswell, Slavestate Destroys Wacken III, Slavestate Hyllar Del 6: Black Metal, The Crown, Transport League och Felicia Grillar (Marco Aro).
#10 (04)
In Flames
,
Dismember
,
Så jävla underground vol. 2
, Monster Magnet, Cephalic Carnage,
J Bergman
,
Boogiemans turnédagbok
,
Burst
, Cannibal Corpse, Disiplin,
Gadget
, Mighty Music, Monstrosity, My Dying Bride, Ragnarok, Raunchy, 36 Crazyfists,
Vintersorg
och
Within Y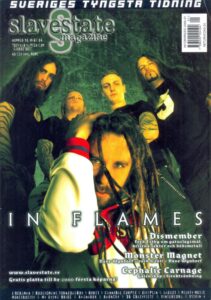 #11 (04)
Danzig, Slipknot, Vomitory, The Great Deceiver, Blindside, Devildriver, Dismember, Fear factory, Hatesphere, Inferno 04, Kataklysm, Mayhem, Nephasth, Pest, Sick of it all, Soulfly, Umeå open, Zeke, Visceral bleeding, Withering Surface och Århus fee Metal festival. #12 (04)
The Haunted
, Cradle Of Tilth,
Nasum
,
Cult Of Luna
, Illdispised,
Amon Amarth
,
Damnation
,
demo #12/2004
,
Defleshed
, Dillinger Escape Plan, Dirty Black Summer, Gates Of Metal,
Insision
,
Meshuggah
,
Mördande rookies
, Mnemic, Mortiis, Neurosis, Painfield,
Psychopunch
,
The 21st Impact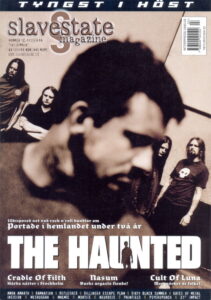 #13 (05)
Marduk, Dark Tranquillity, Isis, Machine Head, B-Thong, Behemoth, Caliban, Cipher System, Dummare Än Trummisen?, Helltrain, Krisiun, Lordi, Misdemeanor, Rallypack, Regain Records, Samael, Wynjara Och Yyrkoon. #14 (05)
Napalm Death, Paradise Lost, General Surgery / Face Down, Defleshed, Abandon, Aborted, Crucified Barbara, Dozer, Enemy Is Us, Engel, Hatesphere, Kaamos, Overkill, Pain, Primordial, The Provenance, Rotten Sound, Soilwork och Strapping Young Lad. #16 (05)
Pelican, Dark Funeral, Endstille, Slavestate Destroys Wacken IV, Opeth, Lolita Stasi, Gojira, Detonation, Burst, The Project Hate, Fear Factory, Rammstein, Tenebre, Clawfinger, Paths Of Possession, Bolt Thrower, Årslistor, Nattefrost, Leaves´Eyes, Hell Within, Jesu och Face Down. #17 (06)
Aloop, Avatar, Craft, Danko Jones, Dark Fortress, Deathstars, Dismember, Driller Killer, Evergrey, In Flames, The Legion, Lingua, One Man Army And The Undead Quartet, The Psyke Project, Raunchy och Scar Symmetry. #18 (06)
36 Crazyfists, Backyard Babies, Cannibal Corpse, Cult Of Luna, Dark Funeral, Deranged, Gorgoroth, Illdisposed, Impaled Nazarene, Khoma, Lacuna Coil, Raise Hell, Raised Fist, Satyricon, Sick Of It All, Totalt Jävla Mörker, Turnédagbok Med M.A.N. och Within Y #19 (06)
Amon Amarth, Cryptopsy, Death Breath, Enter the Hunt, Hatebreed, The Haunted, Heaven Shall Burn, Lyzanxia, Masterlast, Memfis, Ministry, Poisonblack, Setherial, Unearth och Vader.